Real estate is networking and where better to meet future customers and clients than on a Golf Course. One of my favorite local places is the Atkinson Resort and Country Club. Not only does it have a great place to celebrate the 19th hole but it's also a pretty tough course.

Today I'll tell you about hole # 1
It is very short and a lower handicap player should use no more than a 3 wood off the back tees. I see so many players hit driver and get themselves in a lot of trouble.
So if you set up your shot right you'll be able to to come into this green with a short iron.
From the back tees it plays about 350 yards and trees abound the right side and the left has a line of trees and a road that is O.B. which leads to the clubhouse.
A long sand trap hugs the left side of the fairway at about 150 yards out and many a tee ball finds it way in the sand. The right front of the green is also guarded by a large bunker and the green is firm and slopes front to back. So, a nice lofted approach shot is necessary.
The course is 6500 yards from the back tees.
Next I'll break down the next few holes for you.
Golf Season is here and the Atkinson Resort and Country Club is a great place to spend a few relaxing hours golfing.
This is part one in a series of amazing NH Golf brought to you by the Real Estate Golfer
Serving Southern New Hampshire and Rockingham County
NewHampshireRealEstateBlog.com
I stumbled upon this video of women drivers. I am sure there is one out there of male drivers as well and if I stumble upon it I will post here as well.
Female Drivers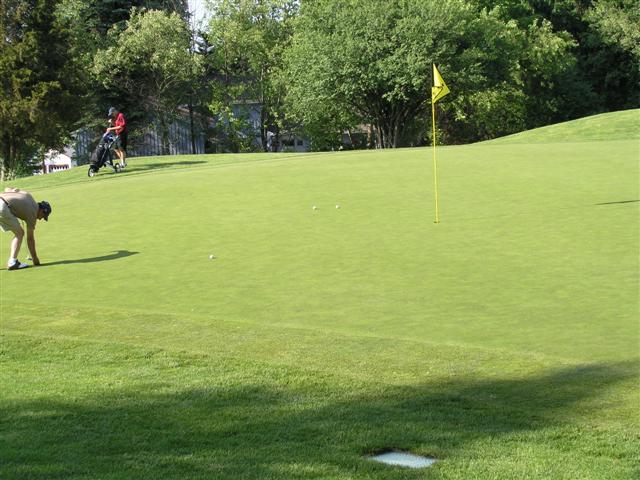 This is my 19th consecutive year playing in the Wilderness Golf League. We play at Campbell's Scottish Highlands Golf Course in Salem, NH.
We started at the earliest point on the calendar we can. Some years we have been extended out due to weather conditions. This year was bright and sunny but awfully windy. Our first group started at 3:50 and it was about 44 degrees. We were the 3 rd group and when I finished it was 38 degrees.
At times while standing on the green you had to brace yourself from being pushed by the wind. I also had to switch hats from my golf hat to my winter knit hat to keep my ears warm. Decked out with a nice heavy sweater and an extra large wind breaker and walking the course I stayed fairly warm. I also used my winter golf gloves to keep my fingers from freezing.
I started off this year in the B division as I missed out the A division by .3 points. I played Bob Sasso and he fought me tooth and nail. We started on the back nine as we usually play the front nine on odd numbered days and the back nine on even days.