Looking at the numbers below we are still experiencing a decrease in buyer online activity. What we are experiencing is our listings are getting more showings this year than last year and that tells me we are still seeing more activity even during these hard economic times.  Monika and I have been a lot busier this time of year than we were during this same time frame last year.
Page views are up from last year. Also, showings have doubled which is a great sign that buyers are out there looking. Home Sales in Derry, NH are up 20% from last year. So, looking at these stats confirms to me that sales are picking up and as we know NOW is the best time in history to buy  a house. Interest rates are at an all time low and inventories are still up so that means there are plenty of homes for buyers to view and prices have declined to about 2002/2003 prices.
January-09
Column1
Total Sessions
51,568
Page Views For Month
458,910
Page Views Per Visit
8.9
Absolute Unique Visitors
22,757
E-Leads Received
554
Broker Showings On Our Homes
1862
Verani

Featured Homes

seen on average

638

times!

January-08
Total Sessions
63,687
Page Views For Month
558,597
Page Views Per Visit
8.77
Absolute Unique Visitors
25,215
E-Leads Received
873
Broker Showings On Our Homes
916
Verani

Featured Homes

seen on average

626

times!

January-07
Total Sessions
74,462
Page Views For Month
703,496
Page Views Per Visit
9.45
Absolute Unique Visitors
52,082
E-Leads Received
887
Broker Showings On Our Homes
1958
Verani

Featured Homes

seen on average

1362

times!
The charts below are for Hampstead New Hampshire residential real estate home sales for February 2008 vs 2009. Inventory is up 6.3% from last year and home sales are up 150% and pending sales are down 20%. We are hoping once the weather breaks sales will pick up.
The green bars represent how many homes were on the market for that given month. The blue represents how many were sold in that given month and the pending sales are the ones with the red line through it.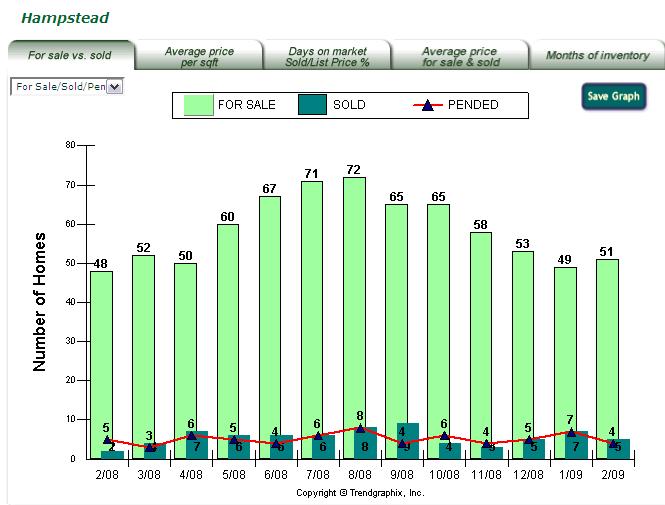 Recently my wife had the  opportunity to be on NHPR (New Hampshire Public Radio) talking about the real estate market and her feelings as to where the market is headed. They called upon her mainly because she is  the New Hampshire Association of REALTOR®s 2009 President-Elect. The program was all about the state of our economy and the real estate market/crisis in particular.  The show she was on is called The Exchange and Laura Knoy was the host.
While she wasn't on for a long time she was, I hope, able to communicate some crucial information. You can listen to the show here.
There is no doubt that January saw a major market stall as many people put home buying on hold in anticipation of what President Obama would do once he took office.  Early February saw some mass confusion due to the up and down real estate stimulus package potential of a $15,000 tax credit.  Some buyers moved forward in anticipation by making offers contingent upon the 15,000 tax credit becoming a reality.
Of course we all know that did not happen.
The reality is that people buy homes not sticks and bricks, they buy lifestyles, they buy a dream and while everyone wants their home to appreciate in value, it's important to remember that long term real estate is an excellent investment.
Are we at the bottom? I really don't know but I do know that investors have stopped looking and have started buying! Which tells a very important story.  If  you're a buyer "On the Fence" don't let this opportunity slip by you.  It would be pretty sad to look in the rear view mirror someday soon and kick yourself for missing this opportunity.
The last week of  February in our Londonderry office alone, we had 24 homes go pending in one week alone.
That's a lot of homes and to me that speaks volumes.
The chart below shows a 10 year history of the Rockingham County real estate market.
| | | | | | | |
| --- | --- | --- | --- | --- | --- | --- |
| Year | Units sold | % change | Median price | % change 2 | DOM | % change |
| 1998 | 4,112 | N/A | $153,200 | N/A | 123 | N/A |
| 1999 | 4,228 | 2.8 | $169,900 | 10.9 | 83 | -33 |
| 2000 | 3,896 | -7.9 | $200,000 | 17.7 | 77 | -7 |
| 2001 | 3,662 | -6 | $237,850 | 18.9 | 69 | -10 |
| 2002 | 3,797 | 3.7 | $264,900 | 11.4 | 72 | 4 |
| 2003 | 3,551 | -6.5 | $285,400 | 7.7 | 75 | 4 |
| 2004 | 3,889 | 9.5 | $314,373 | 10.2 | 75 | 0 |
| 2005 | 3,458 | -11.1 | $337,500 | 7.4 | 81 | 8 |
| 2006 | 2,628 | -24 | $330,000 | -2.2 | 112 | 38 |
| 2007 | 2,576 | -2 | $316,000 | -4.2 | 132 | 18 |
| 2008 | 2,286 | -11.3 | $285,000 | -9.8 | 135 | 2 |