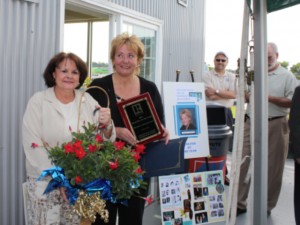 I just wanted to say how proud I am of my wife, Monika McGillicuddy. She has worked extremely hard at real estate and real estate training this year,  I don't even know how she finds the time to be a great wife, mother, grandmother and best friend.
She is not one for early mornings but she day in and day out is either heading to Concord for meetings or taking her buyers out to show homes. Then when she gets home she takes care of everything that needs to be done around the house. A true Champion.
She is always working on the computer, if she isn't out with clients, enhancing her online presence whether it be by blogging or Social Networks.
I think she is hooked on RE Bar Camps. RE Bar Camps are when a group of real estate agents get together and share their knowledge  in a peer to peer enviremont. She has been to ReBar Camp's in Virginia, Philidelphia and Boston. All great experiences for learning. At the Boston event she won a free pass to to RE Tech South another gathering of agents for learning the most in Real Estate Techonolgy. I am sure she is counting the days to March 26, 2010.